Bar at the Alibi
This is the scene from the Alibi Lounge (815 Iberville) . The Alibi is my second home or base during Tales each year. Contrary to popular belief, I do take a hotel room and do not actually live at the Alibi itself during Tales. I do go to my hotel about twice a day to shower, change clothes, and on rare occasions lie down. It has many advantages over a number of other bars or even the media room for a writer ( or anyone else) who needs a good ( notice I didn't say nice) place to drink, eat, and hangout with friends at all hours and not be bothered.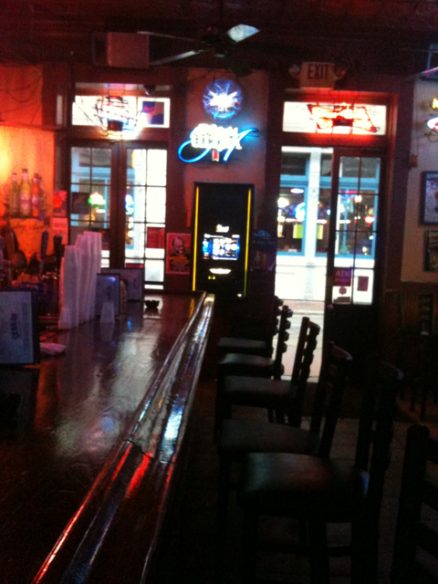 The beer selection is one of the best in the area there, they serve good bar food 24 hours a day and even deliver, and it is a service bar so most of the clientele are bartenders, wait staff and off duty strippers.
So guys, if a woman expresses an interest in you there you know they are serious as they are off duty.
Another advantage is because they do escort services for customers carrying fair amounts of cash (see above), the staff are armed – so like a cop bar it's a safe place to be- it has a reputation and the local criminals (at least the robbery types) know to avoid it. Downside is don't ask for a Sazerac or any other mixed drink that needs much in the way of ingredients or mixology skills- won't happen. But otherwise it is at least 1/2 the price of the Absinthe House and much less crowded. It is also relatively isolated being around the corner from Bourbon Street – so you don't get all the amateurs and riffraff that you get on Bourbon Street.
Uploaded by www.cellspin.net